Youth series to read!
Nabook turns the screen time of 7-14 years old into a reading moment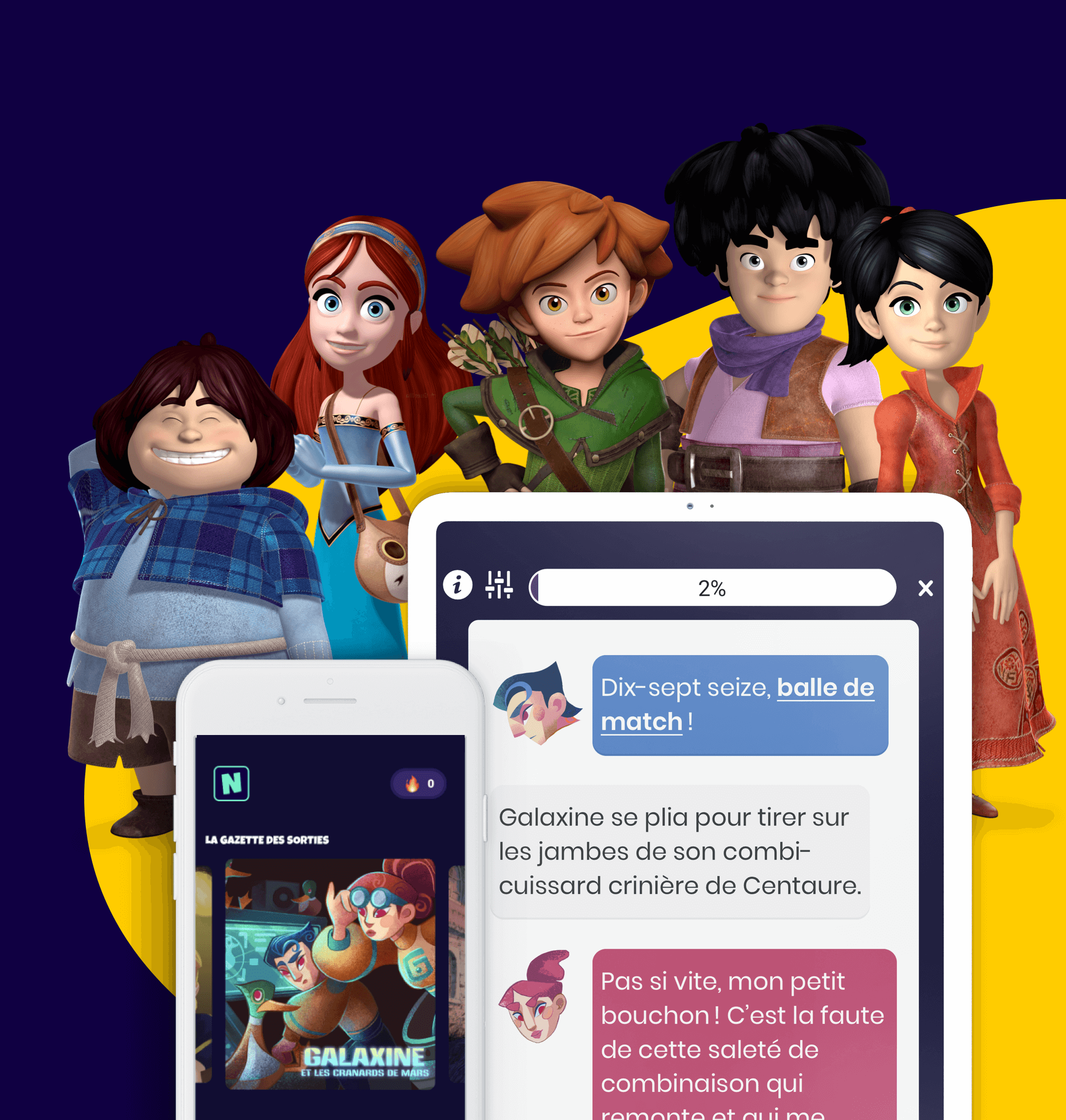 From June 22 to July 24, Nabook is in festival!
LITTLE AND BIG READERS
100+ novels adapted into series
A library in your pocket to read everywhere
Challenges to overcome
READING DIFFERENTLY
Episodes to read in 5 min
In conversation bubbles like comics and manga
Interactive series
MORE ACCESSIBILITY
Text size control and OpenDyslexic font
Cutting of the text in colored bubbles
Intuitive dictionary to read in autonomy
The best of reading in a mobile app
Hundreds of series right in your pocket

Comedy, investigation, fantasy, sci-fi, RPG... Nabook offers a library of over 100 hours of reading and new series every Wednesday.
A library to explore independently

Nabook guarantees independent reading thanks to an intuitive dictionary and a youth profile. You can also enjoy a great reading comfort by adapting the text size and activating the dyslexic font.
A fun and interactive reading experience

Nabook takes advantage of the digital experiences that children already master and love: a text division into colored bubbles, a smart bookmark, a collection of avatars to win... Experience the theater mode to perform the characters in turn.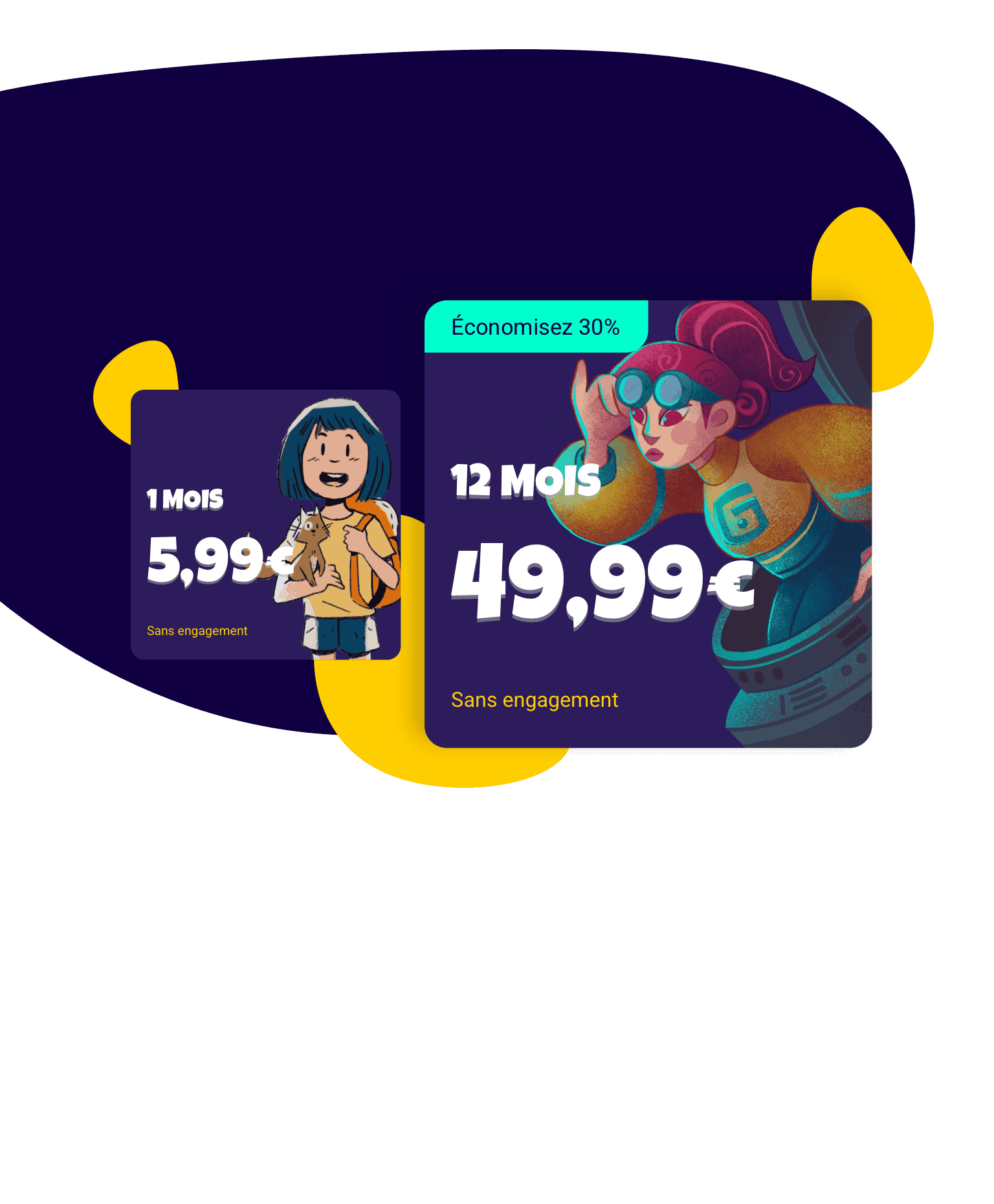 Subscriptions
Nabook offers a rich and qualitative content. We offer two subscription formulas, with a 7-day free trial to discover the entire library.
Alice's mom, 11 yo

I tried Nabook with my daughter who hates reading, even comics... Since then, she reads almost every day!
Adelin's mom, 9 yo

This is definitely the first time I've seen my son want to continue reading!
Gustave's dad, 8 yo

Yesterday, the miracle happened: my youngest, who was screaming to stay on the Switch, started reading Nabook. Today, after school, he went straight back to reading!
How can I take advantage of the 7 free days and subscribe?
Before buying, it's better to try! We're offering 7 free days on monthly and annual subscriptions to discover the Nabook platform.
👉 I launch the 7 free days.

⚠️ At the end of these 7 days, you will be debited the amount of the subscription you subscribed. If you don't want to continue, just suspend your subscription before the 7 days. You will not be debited.
Have a question about e-cards?
You have received a gift card? All you have to do is activate it!
Want to use your prepaid code for an account that already has a subscription? Suspend it from the subscription point (appstore or website). Wait for the current month to expire then you can use your code.
I forgot my password, what should I do?
How do I suspend my subscription?
You can cancel your subscription at any time.

1- You have subscribed from the website?
Login to your account from the Nabook website, then you can unsubscribe.
👉 I connect to my Nabook account.

2- You have subscribed from the mobile application?
Go to the "subscriptions" tab of your appstore and suspend it. You can resume it at any time from this same page.
Nabook meets a specific need? You can suspend your payments and schedule a date to resume the service from the "subscriptions" tab of your app store. You will receive an email from Apple or Google when you resume your subscription.
Is it suitable for dyslexic readers?
Nabook's mission is to promote access to reading for all children. All our series are available with the Opendyslexic font and the font size is adjustable for a better reading comfort.

How to make these adjustments? Launch an episode and click on the settings button 🎚🎚🎚 at the top left.

Could we do it better? Tell us how on social media or via 💌 hello@nabook.co
Why should I create an account?
With an account, readers can find their profile on all their screens. They save their progress and get personalized suggestions.
👉 I create my account.
The access to the platform is free. The first episodes are free.
We offer you 7 free days to discover the whole collections.

You want more? Two options are available to you:
The annual subscription at 49,99€.
Monthly subscription at 5,99€.
The subscriptions give access to all the current and future series as well as to the events.

You want to offer Nabook? E-gift cards are available!
3 months at 16,99€.
6 months at 29,99€ for free
12 months at 49,99
How many profiles can I create with a subscription?
A subscription gives access to a profile. You can use Nabook on several screens simultaneously as long as you don't read the same series.
Additional profiles are coming soon, we're working on it! 👷
You subscribe monthly? We proceed to a monthly automatic debit on the anniversary date of the subscription. For example, you subscribed on April 14, the next debit will be on May 14, and so on!

You subscribe yearly? We proceed with an annual direct debit on the anniversary of the subscription. For example, you subscribed on April 14, 2021, the next debit will take place on April 14, 2022.
How do I switch from a monthly subscription to an annual subscription?
You are a monthly subscriber to Nabook and you want to switch to an annual subscription?
No problem! Go to the payment page of your application and choose the annual offer. Your subscription will automatically be updated!
To resume your subscription, nothing could be easier!
Reactivate your subscription from the "subscriptions" tab of your app store.
or
Take out a subscription directly on the website
When are new series published?
Every Wednesday, new series are published on Nabook. You can find them in the section "À l'affiche" of the library.

And to be sure not to miss anything, the easiest way is :

1️⃣ to join us on Instagram, we can discuss crushes and make recommendations. 👉 I follow Nabook on Instagram.

2️⃣ sign up for our Nabook Gazette to receive weekly releases and a blurb. 👉 I sign up for the Outings Gazette.

3️⃣ to enable notifications from your Nabook app.